Hypar Roof Project
Ramsay Maunder Associates (RMA) are working on the design/analysis of a hyperbolic paraboloid or hypar roof structure, a style that was popular some 50 years ago, for a client who is renovating and upgrading his home in the south east of the UK.
The following image shows a model of the hypar created by the client using stirring sticks from a popular high street coffee outlet.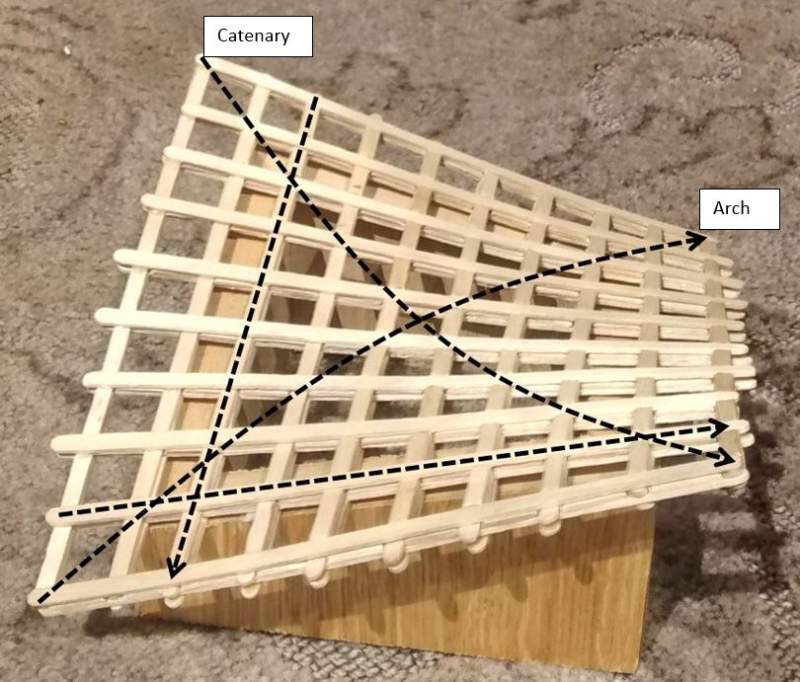 The hypar roof is an interesting form in that it is a doubly-ruled surface (hence the ability to create models as shown above) and is doubly-curved. This means that, like the shell of an egg, it is rather strong in that it converts applied forces into membrane rather than bending stresses. Four paths across the surface are indicated in the figure. Two of these are straight lines whilst the other two are parabolas.
The project was initially offered to several major civil engineering consultancies including ARUP but with the client receiving no response to his enquiries, he looked elsewhere and after suitable research approached RMA.
Such out-of-the-ordinary projects are structurally rather challenging requiring the sort of expertise and attention to detail that RMA is well-placed to offer.
The timescale for the project is relaxed and the client is happy to consider timber or reinforced concrete solutions. RMA is very pleased to be involved with such projects and it is likely that the design and analysis process will ultimately be presented in the form of a Case Study to RMA's clients.