Design against Burst of Rotating Discs
Angus Ramsay, technical director at RMA, worked for ten years in the design analysis of turbomachinery. During this time he was concerned that there appeared to be no theoretical basis for the formula used to calculate the burst speed of rotating discs. As such he has studied this further in the eighth NAFEMS Benchmark Challenge: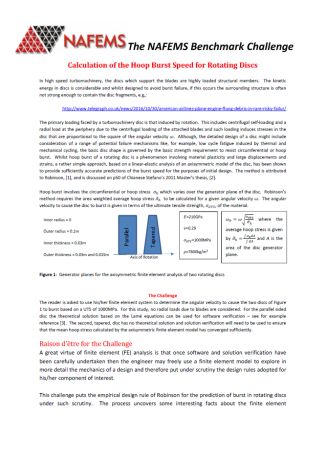 This study reveals the background to the formula adopted in the industry and also shines a light on its limitations. These limitations are corrected in the industry by applying various 'safety' factors. However, as the formula is only appropriate to discs with parallel sides then the actual degree of safety will vary between different disc geometries. RMA have initiated a project to study this further and interested parties are encouraged to collaborate with this work: Design against Burst of Rotating Discs.