Angus Ramsay awarded PSE Certificate
Angus Ramsay, technical director at RMA, has worked in finite element analysis for over 30 years. In 1999 he was awarded NAFEMS Registered Analyst (NRA) certification at Advanced Level: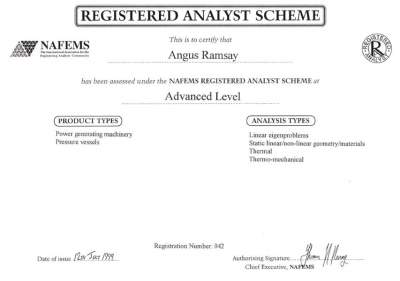 During last year he became involved in the NAFEMS Professional Simulation Engineer (PSE) scheme as an advisor. He has been involved in interviewing candidates from a range of companies including The Welding Institute (TWI) and the Science & Technology Facilities Council (STFC) at Harwell. In recognition of this work he has been awarded Founding Member PSE certification by NAFEMS.